The CBL State Savings Bank Foundation has given $10,000 to the Greer Christian Learning Center (GCLC) to assist in the construction of a new expansion to the learning center.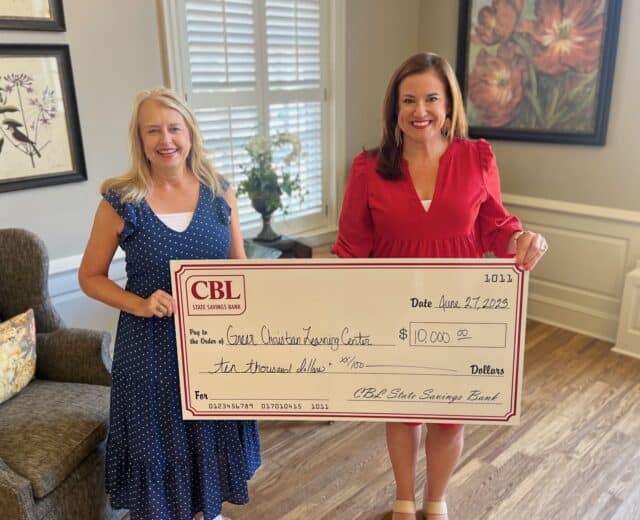 The Greer Christian Learning Center operates as non-denominational, in cooperation with schools and in partnership with parents and churches, to provide students in public schools an opportunity to take Bible classes, to grow in Christian maturity, and to apply Biblical principles to their lives. Students are transported to and from the middle school and high school in Greer, and the students are now outgrowing the space for their needs. The goal is to add an additional 3,500 square feet of classroom space. As a part of the growth, they are now one of the only release time programs that offers a bi-lingual classes for Spanish-speaking students.
"CBL continues to be community-oriented and is special to Greer and Blue Ridge communities. We are seeing a lot of growth around our schools and are in great need of a larger space. We not only appreciate the financial support from CBL, but we appreciate the values that they have continued to operate in throughout the years. This on-going partnership is valuable to our program and, more importantly, to our kids," says Cathy Neely, Director of GCLC.
"It is wonderful to see The Greer Christian Learning Center continue to grow and add additional opportunities to new students in our area and add a bilingual program as well. They have had the vision for growth each year since they began in 1997, and CBL is proud to support this construction project to facilitate the growth and vision," said CBL CEO & President Jennifer T. Jones.