The CBL State Savings Bank Foundation has given $10,000 to Guiding Reins in Campobello, SC. Guiding Reins will use this grant for equine-assisted therapy sessions for veterans, military personnel and first responders and their families who have been affected by mental, physical, emotional trauma and/or challenges. They offer these sessions free of charge.
"We are overwhelmed by the generosity of CBL and the continued partnership. We know that the progress seen in one 90-minute session can be more than months in other counseling programs, and we are often told that this is the program that changed their life," states Director Diane Prewitt. "We are also one of the only programs to offer therapy free of charge to the families of veterans who are underserviced all around."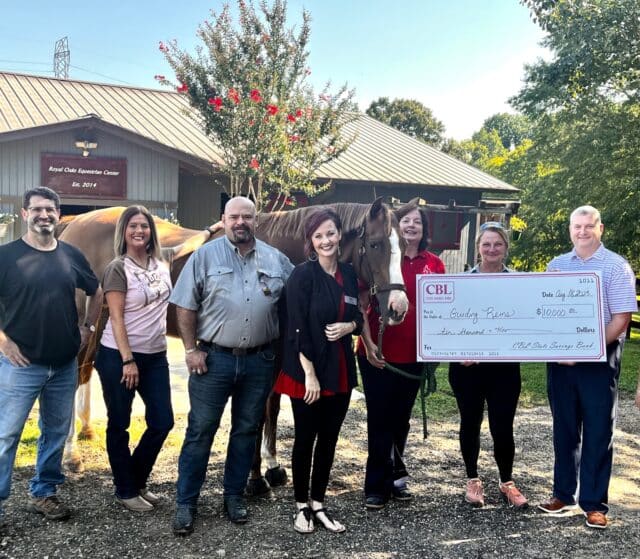 Equine-assisted Therapy (EAT) is proven to help those with addiction, depression, head/brain trauma, PTSD, speech impairment, injury, stroke patients and more. Unlike talk or exposure therapies, which require a veteran to sit and recall traumatic past events, EAT allows the participant to actively move through a series of events that keep the left brain active and body engaged thereby reducing flashbacks or triggering trauma. The horses are sensitive, partner animals and mirror emotions and energy from the handler. This allows the handler to set goals and adjust their mood and behavior to meet goals. The program slowly progresses through trust and time, and the pace is set by each individual and horse instead of each person being required to move at the same rate.
"The amazing work that Guiding Reins provides speaks for itself with its growth and success rate. When we started this partnership there was only one stable involved and now they are up to three, and they are now working on an alumni program to keep the participants connected. The true need for this program within our community is seen firsthand when you visit and talk with the program participants.  Just this year, we learned about suicidal veterans who found hope again by equine-assisted therapy and group participation with fellow veterans. CBL is proud to stand beside them to reach our veterans and provide a resource for their families," said CBL CEO & President Jennifer T. Jones.